Here are a few testimonials from couples that I have worked with over the years. I hope that they will help you to get a better sense of who I am and the types of services that I provide!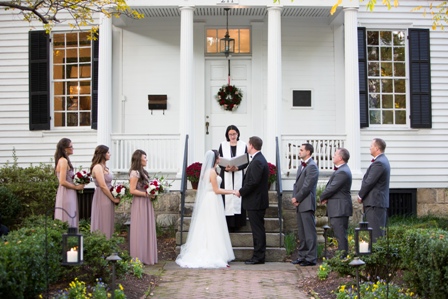 Photograph courtesy of Robin Lin Photography
"My fiancÚ and I wanted our ceremony to focus on us and our journey together - not religion or tradition. It's not that we're atheists or oppose any mention of God, it's just that we felt our ceremony should tell our story and be somewhat memorable. However, it was difficult to find an officiant in the Raleigh area who shared our view. We were actually surprised by the number of officiants who offered ceremonies that were, well, very religious and traditional in nature. We found Tricia through another bride's recommendation, and we couldn't be happier! She was very supportive of our idea to write a somewhat creative ceremony, and she even offered a library of different ceremonies where you could pull bits and pieces from if you needed help, inspiration, or direction (which I did). She's also very good at editing and offering suggestions along the way - even providing direction and assistance at the Rehearsal. My wedding coordinator wasn't the best, and she kept forgetting how I wanted my procession organized. Luckily, Tricia understood my direction and helped keep everything on track at the rehearsal and day-of. It's evident that Tricia is experienced and professional. We couldn't be happier with her services!"

-Monica Talgo
Kevin and Monica Talgo, married 10/24/15 at Haywood Hall, Raleigh, NC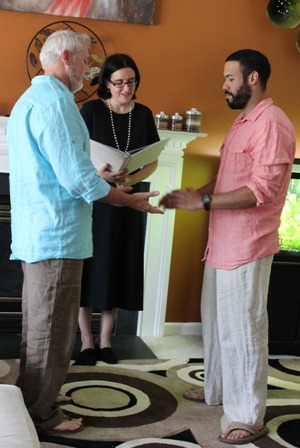 "We were mostly interested in finding someone who was accepting, knowledgeable and professional, as well as excited about performing a same-sex wedding. Hands down, Tricia was the best choice. We could not be any happier with our decision of having her perform our ceremony. Since the beginning, Tricia was extremely professional, straightforward and responsible at maintaining communication. She was fantastic at working with our style, yet at the same time providing excellent advice and comments that were essential for a successful ceremony. We highly recommend Tricia!"
-- Duane and Efrain, married 6/13/15 at the couple's home in Raleigh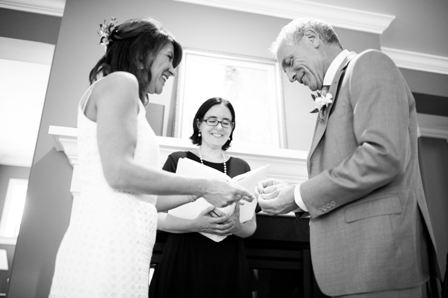 "We highly recommend Tricia as an officiant for anyone's wedding. She is so easy to work with and knows what she's doing! It was an extra blessing to have Tricia perform our ceremony. Angela and Jeff"

-- Angela Glass and Jeff Finck, married 5/8/15 at a private residence in Raleigh, NC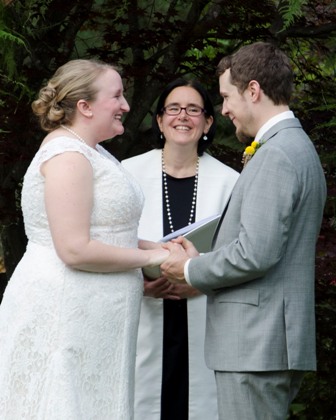 "We found Tricia after some extensive internet searches for a reasonable officiant who could do a personal, touching ceremony, and that's exactly what we got!! Tricia was very responsive and organized from the first time we reached out to her. She responded quickly to all our questions, which is so important when you're planning a wedding and trying to balance everything at once! She offered a great variety of options for the material for our ceremony. We were worried, because we were looking to do a civil, nonreligious ceremony, that we wouldn't be able to find material, but she had touching passages written and we even added some about our history to our ceremony. It was very reassuring to know exactly what would be said! Tricia was prompt and on time to both the rehearsal and the wedding day. She knew all the ins and outs of applying for licenses. She was a great guide through the whole process. We got many compliments on what a great job she did on our special day and we couldn't agree more!"

-- Pauline and Keedan Slopek, married 5/2/15 at the Borden Building, Fred Fletcher Park, Raleigh, NC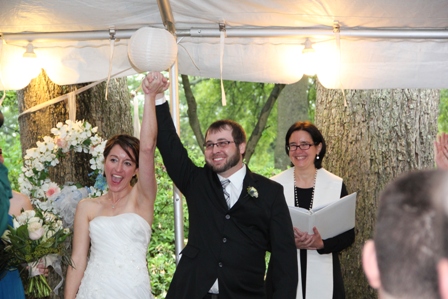 "Thank you for helping put together a wonderful wedding. It was great working with someone who is so well organized and made the ceremony process as easy as possible. Tricia provided us with ceremony options making it easy to customize to our tastes. We are glad we worked with Tricia and would recommend her to everyone!

Thanks again Tricia!

-Bill and Jessica"

-- Bill and Jessica Knouse, married 4/25/15 at Haywood Hall, Raleigh, NC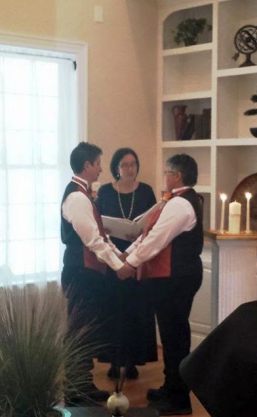 "Thank you for all you have done for us to make our day so special. Our wedding day was the most beautiful day of our lives. Working with you has been a joy and made our wedding just the way we wanted it. Your assistance in helping us build our ceremony was priceless and the process was seamless. Thank you again for helping and sharing with us on our wedding day."

-- Becky and Liz Mazzacco-Marroquin, married 4/25/15 at a private residence in Wake Forest, NC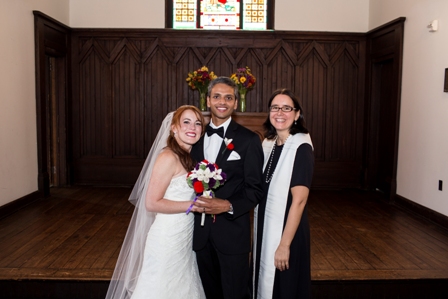 "Working with Tricia on our wedding was one of the most relaxing and enjoyable portions of the planning! Aaron and I were planning our Raleigh, NC wedding remotely (first from SC then from CA) and we had spent a great deal of time researching and trying to find a church that would accommodate our interfaith marriage. After much stress in that process, we looked for an officiant, and Tricia was a blessing to find! We knew after only meeting with her for 10 minutes that she was the perfect Officiant for us and even paid in full right then! She has an amazingly straight forward planning cycle that makes everything easy from the layout of your ceremony, to the types or readings, and even to the flow of the rehearsal and big day. She was also open to us adding a few of our own passages that we'd found along the way to make the big day even more special. We have recommended Tricia to several of our friends that are marrying in the Raleigh area and will continue to do so!

Thank you Tricia for such an amazing day and for being one of the only stress free parts of planning. :)"

-- Aaron & Tamara Mascarenhas, married 9/22/14 at All Saints Chapel, Raleigh, NC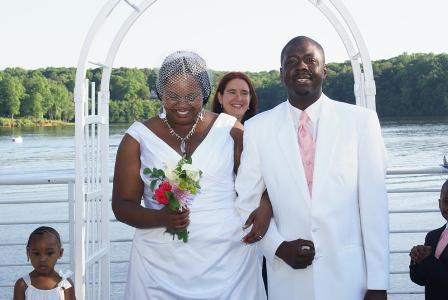 "Tricia Sabol was the perfect Wedding Officiant for my Husband and I. She made our day absolutely perfect! The wedding vows were personally directed to us. Tricia was professional, punctual, a very warm, calm and sweet person to work with. She added things I missed through out the ceremony. I absolutely loved the out come of our Ceremony! I would recommend her services to any one I come across. Tricia is greatly appreciated! :)"
-- Clea and Heather Tabron, married 4/30/11 at Lake Wheeler Park, Raleigh, NC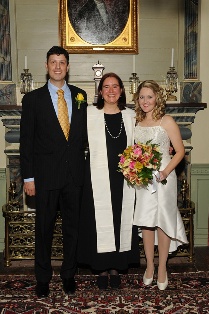 "Throughout this process, you were so helpful. Neither Marc nor I is a terribly organized person, and you absolutely kept us on track, as well as bringing to light all the little details we would have missed without you. We appreciated your willingness to meet with us in person, your patience with us, your amazing ceremony planning, and the graceful way in which you performed the ceremony. We have had so many comments from those who were present. They felt the wedding was touching, and absolutely perfect for our personalities. We felt like you had known us for years when we saw the ceremony choices you had written. Marc and I could never have said what we wanted to say so eloquently - your words became ours seamlessly. We are only sorry things were such a whirlwind we did not have a chance to thank you properly on that day."
-- Marc and Julie Elmo, married 11/13/10 at Haywood Hall, Raleigh, NC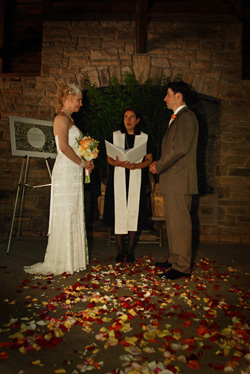 Photograph courtesy of Soo Keith Photography
"Tricia Sabol was the perfect wedding officiant for us, what a wonderful piece of luck that we found her! Right from the beginning she gave us a sense of confidence and assurance that the most important details of our special day were going to be taken care of with thoroughness, professionalism, and warmth. Planning our ceremony with Tricia was always productive and action-oriented. She was able to guide us with her extensive and thoughtfully curated ceremony materials, and she met our request to incorporate a ketubah signing and a Japanese san-san-kudo ceremony with enthusiasm, grace, and warm respect for our somewhat unusual vision. We fully enjoyed collaborating with Tricia to make our ceremony a special reflection of our values and our wedding vows. Everyone walks toward and looks to the officiant for the important moment of their wedding; we were so proud to have Tricia marry us. We recommend Tricia highly!"
-- Zack and Jenne Scherer Mondry, married 4/24/10 at William B. Umstead State Park, Raleigh, NC
"Tricia,

Thank you so much for all your help and support with our wedding ceremony. From beginning to end your professionalism, organization, trustworthiness, open-mindedness, guidance, and advocacy made the process simple and stress-free for us. The readings you sent us were a huge help in guiding us through the process. Your feedback and assistance with the family readings was priceless and helped problem-solve more than you could know. You made the process fun, creative, original, and tailored to us....which is exactly what we were looking for. Thank you for being apart of our special day we greatly appreciate all that you did!!"

~Sarah and Matt Madras
-- Married 4/26/09, Rose Hill Plantation, Nashville, NC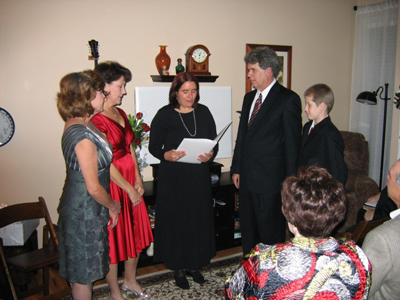 "Sandy and David Blevins here......you married us on Dec. 6, 2008. Less than 2 months ago but we just wanted you to know how much we appreciated all your help..... before, during and after! It was a great relief to know you were there every step of the way helping with vows and paperwork.
Thank you again,
Sandy & David Blevins"
-- Married 12/6/08 at the couple's home in Raleigh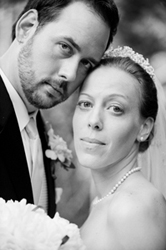 "My husband Marshall and I got marred in June 2008 in Apex, NC. We were both living in NJ at the time and had to do everything remote. Tricia made it so simple to create and build a ceremony that was perfect for us. We wanted something that was not too religious and not too lax and with all the options provided by Tricia I had more than enough material to work with. She made this one aspect of planning my perfect "destination" wedding so simple that I had time to focus on other issues. Even though it was 103 degrees that day the ceremony went over perfectly.
Thank you Tricia."
-- Marshall & Michelle Macomber, married 6/7/08 at Hidden Haven Farm, Apex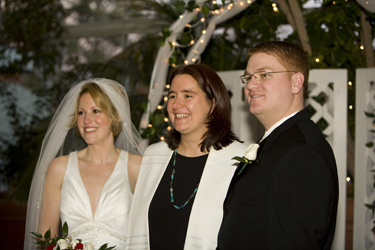 "Tricia provided exactly what we needed for our ceremony- sample writings, quotes, and formats, a "proofreader" who took the time to read the ceremony and make sure it made sense and flowed correctly, and an officiant who was not judgmental and performed the ceremony exactly how WE wanted it. The specialized attention that she gave us made her worth every cent! She even registered our license at the courthouse for us while we were on our honeymoon. She is professional in appearance and demeanor, perfectly suited for anyone's ceremony. We highly recommend her services."

-- Jaime and Andrew Mabe, married 2/2/08 at the Velvet Cloak Inn, Raleigh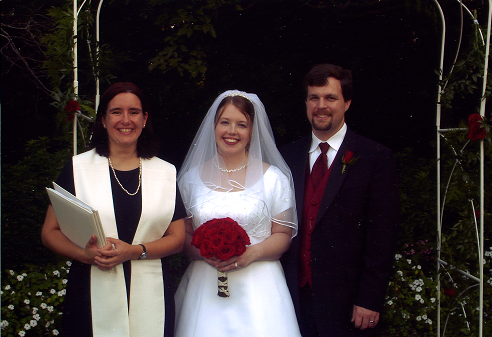 "Reverend Sabol made our day perfect. She was so helpful, friendly, and flexible, and she provided us with tons of information so that we could design our own ceremony. She did an excellent job the day of our wedding. I wouldn't have changed a thing, and I would definitely recommend her to anyone."
-- Holly and Scott Tillotson, married 9/11/04 at the Poe House, Raleigh
"We are so happy we had Tricia as the officiant for our wedding. Not only is she professional, organized, and prompt, she was also a joy to work with! Tricia provided guidance but allowed us to create vows that were a true reflection of us. Every aspect of the ceremony was stress-free due to her hard work and amiable personality. She was the best wedding professional we worked with and would highly recommend her!"
Elizabeth Ashley Morris
eam.elizabethashleymorris@gmail.com
-- Married 6/18/11, Raleigh Rose Garden
"Tricia,

Gavin and I could not have planned a better ceremony without you. Your responsiveness, openness and suggestions were exactly what we needed during the stressful time of wedding planning. The stress that I had anticipated was completely lifted due to your professionalism, experience and efforts. I absolutely loved having the word document sent over to us with the various ceremony options and reading choices. You did a great job and we appreciate everything you did.

Thank you again!
TL & Gavin Brown"
-- Married 8/10/08, Cafe Luna, Raleigh
"Tricia officiated at our wedding in 2006. She was very pleasant and helpful in all of our correspondence. She made it easy to make all of the arrangements for the ceremony ahead of time via e-mail, so that on the day of the wedding everything was handled smoothly and efficiently."
-- Brinna and Chris Deavellar, married 1/7/06 at Magnolia Cottage, Lake Johnson Park, Raleigh